Viking News and Events
Stay up to date with the amazing activities of our BMS students and get the latest events and news about Brentwood Middle.  You can also see the current newsletters.  First semester newsletters can be seen by visiting the Principal's Message page.
Things to Know
Medication Pick-Up
Instructions If your student has medication in the health clinic, WCS protocol requires that all medications be picked up at the end of each school year. If it is not picked up by dismissal that day, the medications will be destroyed. This includes all over-the-counter, prescription and emergency medications.
Boys Basketball Open Gym
Rising 7th and Rising 8th Grader Boys are invited to Open Gym on Monday, May 20th from 4:30 PM – 6:30 PM.
Returning WCS Students
Online Skyward Registration for returning Williamson County Schools students currently in grades K-11 is currently open.  Registration must be completed on a desktop computer using a Skyward login. A parent login must be used, not a student login. When registering, be sure to fully complete each step and click the submit button to ensure the registration is finished.  Your student will not be registered for the 2019 – 2020 school year until the online registration is completed. If you have any questions please feel free to call Kathy Anderson in the BMS office, 615-472-4250 or email her.
Rising 7th Grade Immunizations
All 7th grade students are required BY STATE LAW to submit a current immunization form prior to the first day of the 2019 – 2020 school year. Your doctor has the current form. Students will not be able to attend 7th grade classes until this form is turned in to the BMS front office. The form must include the following:
It must be on the CURRENT State of Tennessee form, which your doctor will provide.
It must show the physician's signature and address of the office.
The square in the lower left corner corresponding to "complete 7th grade or higher" should be checked.
This form can be emailed Kathy Anderson, faxed  to 615-472-4263, or dropped off to Kathy Anderson in the BMS front office.
You can turn in your NEW immunization form to the front office beginning NOW.
Camp Viking
Our Camp Viking program is designed to help ease the anxiety of transitioning from elementary to middle school.  In this program, students will navigate the halls, meet teachers and other students, open lockers, and understand the rules and expectations to middle school.  The dates for Camp Viking are:
Thursday, June 6th – 8:00 AM – 11:30 AM or 12:30 PM – 4:00 PM
Friday, June 7th – 8:00 AM – 11:30 AM
Monday, June 10th – 8:00 AM – 11:30 AM or 12:30 PM – 4:00 PM
Tuesday, June 11th – 8:00 AM – 11:30 AM
Please only register for one slot using the Sign Up Genius link below: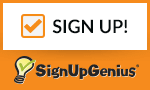 Awards Day Programs – Dates and Times
8th Grade Awards Day and Promotion Ceremony will be on Thursday, May 23rd , from 8:30 AM – 10:00 AM in the gym.
Final Exams – Dates and Times
Tuesday, May 21
8th Grade – 1st & 2nd Academic Exam
7th Grade – 1st Academic Exam
Wednesday, May 22
8th Grade – 3rd & 4th Academic Exams
7th Grade – 2nd & 3rd Academic Exams
Thursday, May 23
7th Grade – 4th Academic Exam